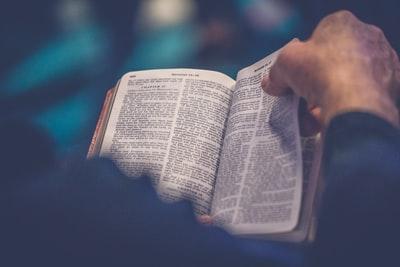 During such turbulent times we can allow ourselves to become so afraid that we lose focus on God's protection. Here are 31 days of Scriptures to encourage your faith, and to remind you that He's all-powerful and all-caring for you.
Day #1 — Psalm 23:4 Yea, though I walk through the valley of the shadow of death, I will fear no evil: for thou art with me; thy rod and thy staff they comfort me. (NKJV).
Day #2 — Psalm 37:27 You are my hiding place; You shall preserve me from trouble; You shall surround me with songs of deliverance. Selah (NKJV).
Day #3 — Isaiah 54:17 "No weapon formed against you shall prosper, and every tongue which rises against you in judgment You shall condemn. This is the heritage of the servants of the Lord, and their righteousness is from Me," says the Lord. (NKJV).
Day #4 — Psalm 91:10 No evil shall befall you, nor shall any plague come near your dwelling. (NKJV).
Day #5 — Psalm 46:1 God is our refuge and strength, a very present help in trouble. (NKJV).
Day #6 — Deuteronomy 7:15 And the LORD will take away from you all sickness, and will afflict you with none of the terrible diseases of Egypt which you have known, but will lay them on all those who hate you. (NKJV).
Day #7 — Psalm 121:8 The LORD shall preserve your going out and your coming in from this time forth, and forevermore. (NKJV).
Day #8 — 1 Corinthians 10:13 No temptation has overtaken you except such as is common to man; but God is faithful, who will not allow you to be tempted beyond what you are able, but with the temptation will also make the way of escape, that you may be able to]bear it. (NKJV).
Day #9 — Deuteronomy 31:6 Be strong and of good courage, do not fear nor be afraid of them; for the Lord your God, He is the One who goes with you. He will not leave you nor forsake you." (NKJV).
Day #10 — Psalm 5:11 But let all those rejoice who put their trust in You;
Let them ever shout for joy, because You defend them; let those also who love Your name be joyful in You. (NKJV).
Day #11 — Psalm 34:19 Many are the afflictions of the righteous, but the Lord delivers him out of them all. (NKJV).
Day # 12 — Psalm 18:30 As for God, His way is perfect; the word of the Lord is proven; He is a shield to all who trust in Him. (NKJV).
Day #13 — Psalm 3:3 But You, O Lord, are a shield for me, my glory and the One who lifts up my head. (NKJV).
Day #14 — Psalm 91:4 He shall cover you with His feathers, and under His wings you shall take refuge; His truth shall be your shield and buckler. (NKJV)
Day #15 — Psalm 57:1 Be merciful to me, O God, be merciful to me! For my soul trusts in You; and in the shadow of Your wings I will make my refuge, until these calamities have passed by. (NKJV).
Day #16 — Psalm 138:7 Though I walk in the midst of trouble, You will revive me; You will stretch out Your hand against the wrath of my enemies, and Your right hand will save me. (NKJV).
Day #17 — Psalm 140:4 Keep me, O Lord, from the hands of the wicked;
preserve me from violent men, who have purposed to make my steps stumble. (NKJV).
Day #18 — 2 Corinthians 4: 8-9 We are hard-pressed on every side, yet not crushed; we are perplexed, but not in despair;  persecuted, but not forsaken; struck down, but not destroyed— (NKJV).
Day #19 – 1 Thessalonians 5: 23-24 Now may the God of peace Himself sanctify you completely; and may your whole spirit, soul, and body be preserved blameless at the coming of our Lord Jesus Christ. He who calls you is faithful, who also will do it. (NKJV).
Day #20 – John 10:28-30 And I give them eternal life, and they shall never perish; neither shall anyone snatch them out of My hand. My Father, who has given them to Me, is greater than all; and no one is able to snatch them out of My Father's hand. I and My Father are one." (NKJV).
Day #21 – Psalm 121 I will lift up my eyes to the hills— From whence comes my help? My help comes from the Lord, Who made heaven and earth. He will not allow your foot to be moved; He who keeps you will not slumber. Behold, He who keeps Israel Shall neither slumber nor sleep. The Lord is your keeper; The Lord is your shade at your right hand. The sun shall not strike you by day, Nor the moon by night. The Lord shall preserve you from all evil; He shall preserve your soul.
The Lord shall preserve your going out and your coming in from this time forth, and even forevermore. (NKJV).
Day #22 – Psalm 121:3 He will not allow your foot to be moved; He who keeps you will not slumber. (NKJV).
Day #23 – 2 Timothy 4:18 and the Lord will deliver me from every evil work and preserve me for His heavenly kingdom, to Him be glory forever and ever. Amen! (NKJV).
Day #24 – Proverbs 26:25-26 Do not be afraid of sudden terror, not of trouble from the wicked when it comes; For the Lord will be your confidence and will keep your foot from being caught. (NKJV).
Day #25 — Acts 16:31 So they said "believe on the Lord Jesus Christ, and you will be saved, you and your household" (NKJV).
Day #26 — Romans 8:38-39 For I am persuaded that neither death nor life, nor angels nor principalities nor powers, nor things present nor things to come, nor height nor depth, nor any other created thing, shall be able to separate us from the love of God which is in Christ Jesus our Lord. (NKJV).
Day #27 – Proverbs 2:8 He guards the paths of justice and preserves the way of His saints. (NKJV).
Day #28 – Proverbs 18:10 The name of the Lord is a strong tower; the righteous run to it and are safe. (NKJV).
Day #29 — Joshua 1:9 Have I not commanded you? Be strong and of good courage; do not be afraid, nor be dismayed, for the LORD your God is with you wherever you go. (NKJV).
Day #30 – Exodus 15:2 The Lord is my strength and song, and he has become my salvation. He is my God, and I will praise Him: my Father's God, and I will exalt Him. (NKJV).
Day #31 – Isaiah 26: 3-4 You will keep him in perfect peace, whose mind is stayed on You, because he trust in you. Trust in the Lord forever, for in YAH, the Lord, is everlasting strength. (NKJV).