Avoid Spiritual Fruitcake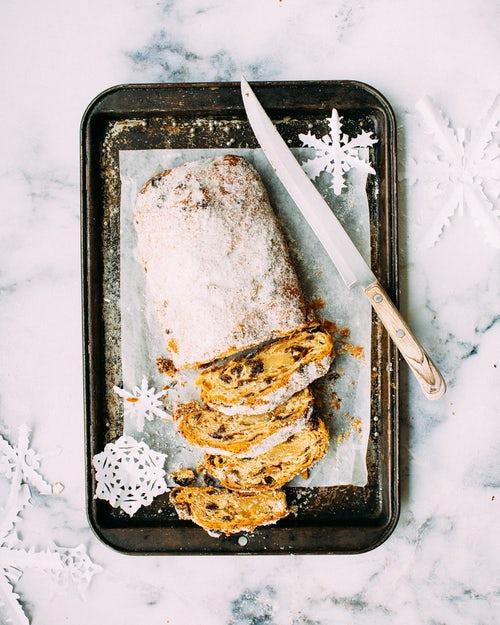 During the Christmas season many share and enjoy a rich, traditional delight called fruitcake. A fruitcake consists of a variety of textures, colors and flavors. Generally, fruitcake is a mixture of fruits and nuts with just enough batter to hold them together, and if kept in a tightly closed tin, a fruitcake may be kept for months or even years.
But fruitcake is also a negative label given to individuals whose ideas, speech, and actions are wacky, and unappealing to others around them. As Christians, we want to avoid becoming a spiritual fruitcake.
A spiritual fruitcake is one who lacks balance between the Word of God and the Holy Spirit. They are filled with zeal for the moves of the Spirit, but have not developed understanding and wisdom that come from the Word.
In this post I am going to give a simple recipe to follow so that we can preserve our witness for life.
Ingredients:
1. Word of God – Add a generous amount daily.
It says in Joshua 1:8-9,  "This book of the law shall not depart out of thy mouth; but thou shalt meditate therein day and night, that thou mayest observe to do according to all that is written therein: for then thou shalt make thy way prosperous, and then thou shalt have good success.  (9)  Have not I commanded thee? Be strong and of a good courage; be not afraid, neither be thou dismayed: for the LORD thy God is with thee whithersoever thou goest."
2. Living Waters  – Mix with the Word of God.
Jesus says in John 7:37-39,  "In the last day, that great day of the feast, Jesus stood and cried, saying, If any man thirst, let him come unto me, and drink. He that believeth on me, as the scripture hath said, out of his belly shall flow rivers of living water. (But this spake he of the Spirit, which they that believe on him should receive: for the Holy Ghost was not yet given; because that Jesus was not yet glorified.)"
3. Redemption – We must carefully follow the instructions listed in Romans 10:9-13.
There is only one way to add this ingredient. "That if thou shalt confess with thy mouth the Lord Jesus, and shalt believe in thine heart that God hath raised him from the dead, thou shalt be saved. For with the heart man believeth unto righteousness; and with the mouth confession is made unto salvation. For the scripture saith, Whosoever believeth on him shall not be ashamed. For there is no difference between the Jew and the Greek: for the same Lord over all is rich unto all that call upon him. For whosoever shall call upon the name of the Lord shall be saved."
Because in Ephesians 1:7  it clearly tells us, "In whom we have redemption through his blood, the forgiveness of sins, according to the riches of his grace;"
4. Relationship – This ingredient takes time to cultivate.
David cried out in Psalm 42:1-2,  "As the hart panteth after the water brooks, so panteth my soul after thee, O God. My soul thirsteth for God, for the living God: when shall I come and appear before God?"
5. Revelation  – As the other ingredients listed above are cultivated this special ingredient will naturally supernaturally come.
This truth is revealed to us in 1Corinthians 2:14, "But the natural man receiveth not the things of the Spirit of God: for they are foolishness unto him: neither can he know them, because they are spiritually discerned."
6. Living Word  – If above ingredients are mixed well, your batter will come alive.
It says in Hebrews 4:12, "For the word of God is quick, and powerful, and sharper than any twoedged sword, piercing even to the dividing asunder of soul and spirit, and of the joints and marrow, and is a discerner of the thoughts and intents of the heart."
7. Consistency – You need to double check your batter on a regular basis to see if it is right.
2Corinthians 13:5a instructs us to, "Examine yourselves, whether ye be in the faith; prove your own selves."
8. Balance – We must take the time to weigh the batter to see if we have balance.
Ecclesiastes 3:1 encourages us that, "To every thing there is a season, and a time to every purpose under the heaven:"
9. Fruits of the Spirit – It is very important to carefully add all the Fruits of the Spirit into the batter.
These fruits are listed in Galatians 5:22-23, "But the fruit of the Spirit is love, joy, peace, longsuffering, gentleness, goodness, faith, meekness, temperance: against such there is no law."
10. Gifts of the Spirit – These are added as the Holy Spirit wills for the benefit of all.
1Corinthians 12:8-10 lists the gifts that the Holy Spirit will be adding, "For to one is given by the Spirit the word of wisdom; to another the word of knowledge by the same Spirit; To another faith by the same Spirit; to another the gifts of healing by the same Spirit; To another the working of miracles; to another prophecy; to another discerning of spirits; to another divers kinds of tongues; to another the interpretation of tongues:"
The batter is the base of the recipe and it holds the other ingredients in their place. The Word of God is our spiritual batter and it holds every area of life together. In order to have a good batter we need to read and study the Word of God 365 days / year.
A batter needs to have the right consistency, so we need to carefully measure our ingredients. The amount of liquid determines the consistency of the batter. A runny batter has too much liquid and not enough solids and can't hold other ingredients together. A thick batter has too much solid and lacks sufficient liquid and is difficult to work with.
We need the Living Waters, the redemptive blood of Jesus Christ and His power, the Holy Spirit freely flowing in our lives. If we have the Word of God only, then we have religion. But when we have relationship with our Redeemer, Jesus Christ and the revelation of the Holy Spirit, the Word of God becomes the Living Word.
The Fruits of the Spirit, love, joy, peace, longsuffering, gentleness, goodness, faith, meekness and temperance add the balance that is needed to preserve a good witness throughout our lifetime.
And added at the right time a mixture of the Gifts of the Spirit, a word of wisdom, a word of knowledge, faith, gifts of healings, working of miracles, prophecy, discerning of spirits, diverse kinds of tongues, and the interpretation of tongues, will add the variety of textures, colors and flavors needed to draw others to Christ and His ways through us.
Working with this recipe will prevent us from becoming spiritual fruitcakes and will enhance the variety of textures, colors and flavors that we've been given that will preserve our testimony of God's grace upon our lives.
Click here to visit Becky's ministry itinerary.
© 2011 Author Becky Dvorak–Healing and Miracles International, All rights reserved.