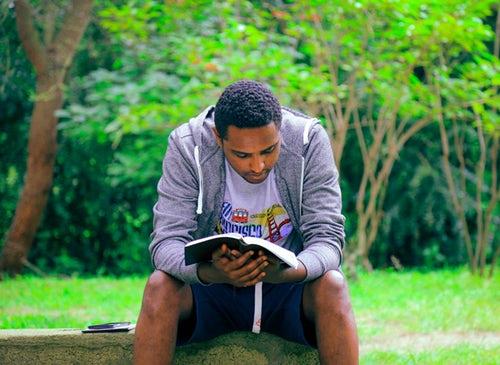 We live in an unfaithful world, even God's people struggle to remain faithful nowadays. But that does not mean we need to join the ranks of the unfaithful. But how can we remain faithful when many around us are falling from the faith? How do we remain faithful in an unfaithful world?
Our ability to remain faithful in an unfaithful world was so important to Jesus that He prayed the following for His disciples, including you right before He was arrested in the Garden of Gethsemane. "I have given them Your word; and the world has hated them because they are not of the world, just as I am not of the world.  I do not pray that You should take them out of the world, but that You should keep them from the evil one. They are not of the world, just as I am not of the world.  Sanctify them by Your truth. Your word is truth. As You sent Me into the world, I also have sent them into the world. And for their sakes I sanctify Myself, that they also may be sanctified by the truth." (John 17:14-19.)
First of all, in this portion of Scripture He gives us the key, we are not of the world. We live on this earth, but we are not to be of its sinful ways. But we are to sanctify ourselves with the washing of His Word, see Eph. 5:26.
He continues on with His prayer to the Father, "I do not pray that You should take them out of the world, but that You should keep them from the evil one." So often, Christians pray to the Father, "Take me home." But this is not how we are to pray to escape trials and tribulations. We are to pray as Jesus does, "Father, keep them (me) from the evil one." As I meditate upon this portion of Scripture it reveals that there is a purpose for us to be on this earth. We are to be about our heavenly Father's business and win the lost, but if we do not sanctify ourselves in the Word the world will win us over with their sinful ways.
Not only are we to pray, "Father, keep me from the evil one and his ways." But we are to say no to temptations. How do we accomplish this, especially when the temptations are increasingly stronger in these last days? James teaches us the spiritual plan to victory in every situation in James 4:7, "Submit yourselves therefore to God. Resist the devil, and he will flee from you."

We are to submit ourselves to God. Submit in Greek is "

hypotássō", G5293, and it means to obey:—be under obedience (obedient), put under, subdue unto, (be, make) subject (to, unto), be (put) in subjection (to, under), submit self unto. In other words, we are subdue our human will, our fleshly desires, and put ourselves under the authority of God. You may think this is not possible. It is. Why? Because when Jesus walked this earth, He left His God powers in Heaven, and walked this earth just as we do. And because He was tempted in every way that we are, but did not sin, we can now overcome temptations as well, see Heb. 4:15. But first, we have to give up our human will, and surrender to the Father's will, just like Jesus did in the Garden of Gethsemane when He sweat great drops of blood for us, see Luke 22: 41-44.

Then we are to resist the devil. This word "resist" in the Greek language is "

anthístēmi

", G436, and it means to set one's self against, to withstand, oppose. Remember, we have been given all authority over satan and all of his wicked works, see Luke 10:19. We've been given spiritual armor according to Ephesians 6:10-20, which includes a shield of faith to quench all of satan's fiery darts, and the sword of the Spirit, which is the Word of God. And just as Jesus overcame temptation that evening in the Garden of Gethsemane to run away from His destiny, which was to be slaughtered for our redemption by praying for Himself, we too are to do the same. Pray to the Father, thank Him for giving to us His Holy Spirit, and the supernatural gift of tongues to pray and edify, build ourselves up when we are weak in faith, see 1 Cor. 14:4.
When we faithfully activate God's spiritual plan of victory we turn the tables and the devil will flee from us. And this word flee in Greek is

pheúgō

, G5343, means to run away to escape us.
And this is how we remain faithful in an unfaithful world. And being faithful has an everlasting promise for us, the faithful Church in Revelation 3:8-10, "I know your works. See, I have set before you an open door, and no one can shut it; for you have a little strength, have kept My word, and have not denied My name. Indeed I will make those of the synagogue of Satan, who say they are Jews and are not, but lie—indeed I will make them come and worship before your feet, and to know that I have loved you.  Because you have kept My command to persevere, I also will keep you from the hour of trial which shall come upon the whole world, to test those who dwell on the earth."
Becky Dvorak is a prophetic healing evangelist and the Destiny Image author of DARE to Believe, Greater Than Magic and The Healing Creed. Visit her at authorbeckydvorak.com.