Is a Confession of Faith a Lie?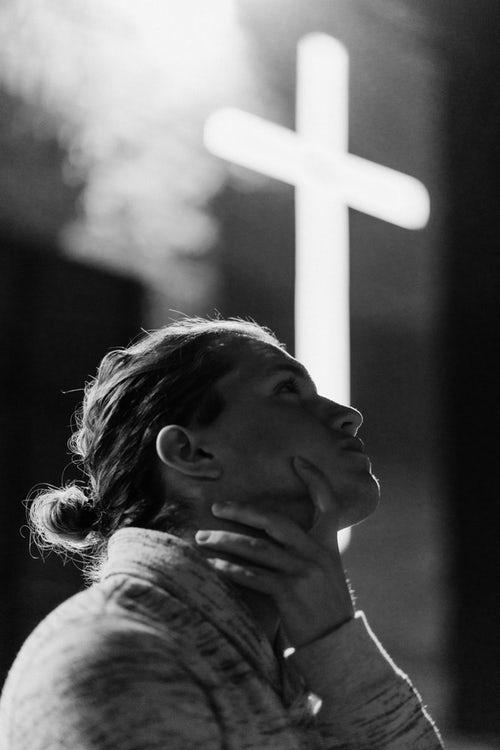 There is great confusion among believers in Christ as to whether or not a confession of faith is a lie. The ninth commandment tells us we are not to lie. Proverbs 12:22 plainly says. "Lying lips are an abomination to the Lord, but those who act faithfully are his delight." And a lying tongue is listed as one of the 7 sins God hates the most. "There are six things the Lord hates, seven that are detestable to him: haughty eyes, a lying tongue, hands that shed innocent blood, a heart that devises wicked schemes, feet that are quick to rush into evil, a false witness who pours out lies and a man who stirs up dissension among brothers" (Proverbs 6:16-19). From these 3 verses alone we can gather that lying is a serious sin, and God hates it, and we are to speak the truth.
But then we read verses such as Romans 4:17 that God says, "(as it is written, "I have made you a father of many nations") in the presence of Him whom he believed—God, who gives life to the dead and calls those things which do not exist as though they did;" Proverbs 18:21 clearly teaches us, "Death and life are in the power of the tongue, and those who love it will eat its fruit." Proverbs 12:18 reveals right type of words bring forth healing, "There is one whose rash words are like sword thrusts, but the tongue of the wise brings healing."
This sets my mind to thinking that there is a huge spiritual difference in the way in which words are being spoken. Some say it is a lie to say, "By His stripes I am healed", (Isa. 53:5) when they still have physical symptoms of sickness upon them. But, with the story of Abram, later changed to Abraham, he was to call those things that are not as though they already were. No longer was he to confess that he was fatherless with his barren wife, Sari, later changed to Sarah.
The words that one speaks are so vital, that God changes Abram's name to Abraham. So now, every time he introduces himself, "Hi, I'm Abraham." He is actually declaring to everyone he meets, "Hi, I'm the father of many nations." Now, from a carnal perspective that would be telling a lie. His wife was barren. They were elderly. He had one son with his wife's servant, Hagar. One son, with another woman other than his wife still does not make him a father of many nations.
And God also changed Sari's name to Sarah, so she would start to declare that she would give birth to nations, kings, prominent people would come from her womb. This too with natural reasoning would be consider a lie. She didn't even have one child, let alone be the mother of  nations and kings.
James 3: 1-11 warns about the power of the tongue, "My brethren, let not many of you become teachers, knowing that we shall receive a stricter judgment. For we all stumble in many things. If anyone does not stumble in word, he is a perfect man, able also to bridle the whole body.  Indeed, we put bits in horses' mouths that they may obey us, and we turn their whole body. Look also at ships: although they are so large and are driven by fierce winds, they are turned by a very small rudder wherever the pilot desires. Even so the tongue is a little member and boasts great things.
See how great a forest a little fire kindles!  And the tongue is a fire, a world of iniquity. The tongue is so set among our members that it defiles the whole body, and sets on fire the course of nature; and it is set on fire by hell. For every kind of beast and bird, of reptile and creature of the sea, is tamed and has been tamed by mankind. But no man can tame the tongue. It is an unruly evil, full of deadly poison. With it we bless our God and Father, and with it we curse men, who have been made in the similitude of God.  Out of the same mouth proceed blessing and cursing. My brethren, these things ought not to be so.  Does a spring send forth fresh water and bitter from the same opening"
The power of the tongue either blesses or curses, creates or destroys ourselves, others, hopes, dreams, and future plans. So, what is a confession of faith for a healing or a miracle? Is it an arrogant lie? Is it a form of manipulation we use against God to try to get our way? No, it isn't any of these explanations. What it is then?
A confession of faith for a healing or miracle is faith talk. It's God's form of speech. It's supernatural vocabulary that produces what it declares. And it's based on faith, and comes from the heart, it believes what it is saying. And I'll take this deeper, and make it clearer. When we speak a confession of faith for a healing or miracle we are actually prophesying into the situation.
We read of this in Genesis 1: 3a, "And God said, Let there be light." Another example of this is found in  Ezekiel 37:4, "Again he said unto me, Prophesy to these bones, and say unto them, O you dry bones, hear the word of the LORD." Jesus prophesies in John 11:43, "And when He thus had spoken, He cried with a loud voice, Lazarus, come forth."

What happened when God prophesied in Genesis 1:3? Light manifested. And this is what happened when Ezekiel prophesied to the dry bones, "So I prophesied as I was commanded; and as I prophesied, there was a noise, and suddenly a rattling; and the bones came together, bone to bone. Indeed, as I looked, the sinews and the flesh came upon them, and the skin covered them over; but there was no breath in them." (Ezekiel. 37:7-8).  And when Jesus prophesied with a loud voice over Lazarus' dead body it came back to life and walked out from the tomb.
We are not speaking out a lie when we declare a confession of faith for a healing or a miracle. We are activating the gift of prophesy. And according to 1 Corinthians 14:3, the purpose of prophesy is, "But he who prophesies speaks edification and exhortation and comfort to men."
Today, make a quality decision that you will use the power of your words wisely, bless not curse yourself and others, create, build up, not destroy your body in the name of Jesus, and declare those things that are not as though they already are, "In Jesus' name, I am healed."
Click here to visit Becky's ministry itinerary.
© 2016 Author Becky Dvorak–Healing and Miracles International, All rights reserved.