Ministering Healing at Work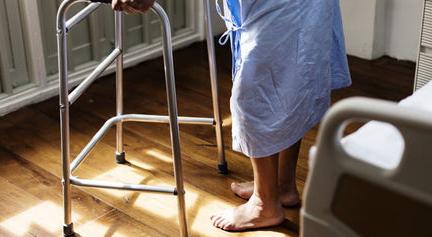 Amy writes, "I feel like I have a lot of hindrances. I work in a place that is seemingly non conducive to faith. I mean I work in a hospital. When I tell people I believe it is God's will to heal every person and that God is able to heal, people just look at me with blank, dead stares, as if they don't believe me. That makes me doubt that any healing can take place. I guess I don't really see people's "faith peak" as you called it. There is a man, that I led to the Lord, soul salvation anyway [ he experienced deep peace] when we prayed, and we saw slight results [ his paralyzed arm exhibited flexibility instead of stiffness, but he could not move it on his own]. This guy I have been ministering to for months off and on. He still doesn't have enough of his "own" faith to be healed. When I pray for him we don't see results, but yet I believe God is willing and able to heal. I've been thinking how maybe people need to see YOU (Becky.. or me.. or whoever is ministering to them) as an effective authoritative minister of God, as willing and able to heal. I don't have many testimonies of healing that's I've personally seen (only ones I've heard about). Plus, If I'm just their nurse at the hospital. That's all they can see me as. I don't think they have faith in me or my ability to give them something from God. What do you think about this Becky?"
Amy, I appreciate your honest desire to understand and to walk in the healing power of the Holy Spirit. There are eight different points that I would like to address in your last comment.
#1. Sharing your faith in the work place: I have no doubt you are right where God wants you to be, in a hospital ministering divine healing. What an awesome opportunity for an eternal harvest He has set before you!
#2. You are correct when you say they don't believe you. And I would like to add the word; "yet" after that statement. That is exactly why God has placed you there, to teach and to encourage them to have faith in God and in His healing power. "So then faith comes by hearing, and hearing by the Word of God" Romans 10:17. Amy, give them something to hear, and give them the Word of God.
#3. Even though the soil is hard, don't be discouraged. I would like to give you a visual to meditate upon. See each patient as a garden, and you are a gardener. The condition of the soil (the spirit) will be different for each person. You will have to work the soil (encouragement and testimonies) and pull up weeds (doubt and confusion), but then comes the planting (teaching the Word), watering that seed (more encouragement and testimonies), and do some more weeding (deal with doubts and confusion as they arise), then comes harvest time (manifestations of healings and salvations).
#4. If you don't see the person's faith peak, have patience, and continue to encourage, testify and teach. It will happen. A gardener knows that if they work the soil, plant a seed and tend to that seed well, that eventually a plant will appear.
#5. Praise the Lord, the man you've been ministering to received the Lord! Now continue to disciple him in the Word concerning healing. The manifestation of healing will follow the teaching of healing.
#6. I agree with you, we ministers of reconciliation, need to walk in authority over sickness and disease, and we need to be willing to lay hands on the sick and heal in the name of Jesus.
#7. You say you don't have personal healing testimonies to share, and again I add "yet" to the end of that statement. If you will put your faith into action you will have your own testimonies, but in the meantime, share Jesus' healing testimonies, or you can even share mine.
#8. If you are concerned they can only see your uniform, or your position, than do something about that. With short-term patients, invite them to a Bible Study at your home about healing. My books; DARE to Believe, Greater Than Magic, and my soon to be released, The Healing Creed are filled with teachings and testimonies, how to minister healing, how to put faith in action, questions, faith assignments, personal reflections that can be used in group settings as well as personal study. If they are long-term patients, visit them on your time off and read the Word concerning healing to them, read my book to them. Pray, God will give you direction in all of this. I hope this helps.
Becky Dvorak is a prophetic healing evangelist and the Destiny Image author of DARE to Believe, Greater Than Magic and, soon to be released, The Healing Creed. Visit her at authorbeckydvorak.com.