The Prophetic & Healing Power of Your Words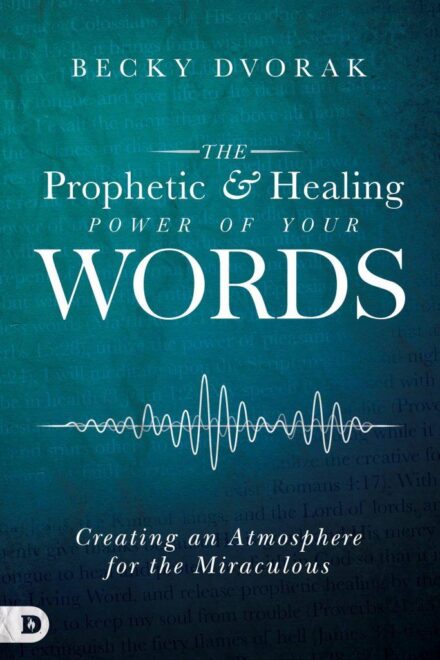 I stand in awe many times over as I witness the prophetic healing power of the Spirit change and rearrange the lives of God's people forever. A simple command of faith, "In Jesus' name, I command this cancerous tumor to shrivel up and die," and by morning the large tumor is gone, and a woman's life is dramatically altered. In another meeting, I hear the Holy Spirit whisper in my ear, "Call the people suffering from arthritis to come forward." I do as he instructs, and about one hundred people step forward to the altar. I ask them to hold hands in groups as I lay my hand on one person in each group and release the prophetic healing power with my words, "I renounce arthritis and the demons behind this work." I lead them in a general prayer of repentance, and I touch them and simply speak forth, "Be healed in Jesus' name" and one by one they are delivered and healed.
Two women are standing in the healing line with the same problem, they are unable to produce natural tears. To save time, I stand between the two and stretch forth my hands and touch them both on their shoulders, I verbally release healing with the power of my spoken words, "In Jesus' name, I declare your eyes produce natural tears." And immediately both sets of eyes are healed and from the top to the bottom, the eyes are moistened and tears form.
An elderly woman can barely stand in the healing line as both hip joints are worn down and surgery is already scheduled later that week. I lightly touch her hip joints and I vocally create new ones and tell them, "Now, you function perfectly normal in the name of Jesus." I look her in the eye and tell her to move, bend over and touch her toes, walk and her hip joints are instantly recreated, healed, and all pain is gone as she effortlessly does what I tell her to do.
Prophetic healing is real, and it is for today.
But the enemy is afraid of the effectiveness of the prophetic healing and speaks lies among the Body of Christ. Some of our brothers and sisters in Christ believe prophetic healers are of the devil and they are occult practices. But I ask you to be reasonable, "Would satan desire for you to be delivered from demons? Would he want you to be healed from cancer and win people to Jesus with the words of your healing testimony? Would he be glad if your next-door neighbor regained their sight? or that your grandfather's deaf ears open so he can hear the Word of God preached again?"
For many years, and still counting, the devil agitates and stirs up the religious spirits among believers and hinders the might move of prophetic healing in all areas of life; spiritual, emotional, mental, and physical healing. But even though he may have been able to pull the wool over the eyes of a vast number of Christians for quite some time now, the Spirit of God is on the move, the remnant is on the rise and the prophetic power of healing is on her tongue. It's time to join the ranks of God's remnant and take hold of the Kingdom of God by force, be about your heavenly Father's business, ad win the lost in great numbers. Prophetic healing easily wis souls over to God.
Click to Enroll in My Current Online Healing Course: Greater than Magic Online Healing Course – Author Becky Dvorak
Click here to visit Becky's ministry itinerary.
© 2023 Author Becky Dvorak–Healing and Miracles International, All rights reserved.