You've Done Everything You Know to Do, Now What?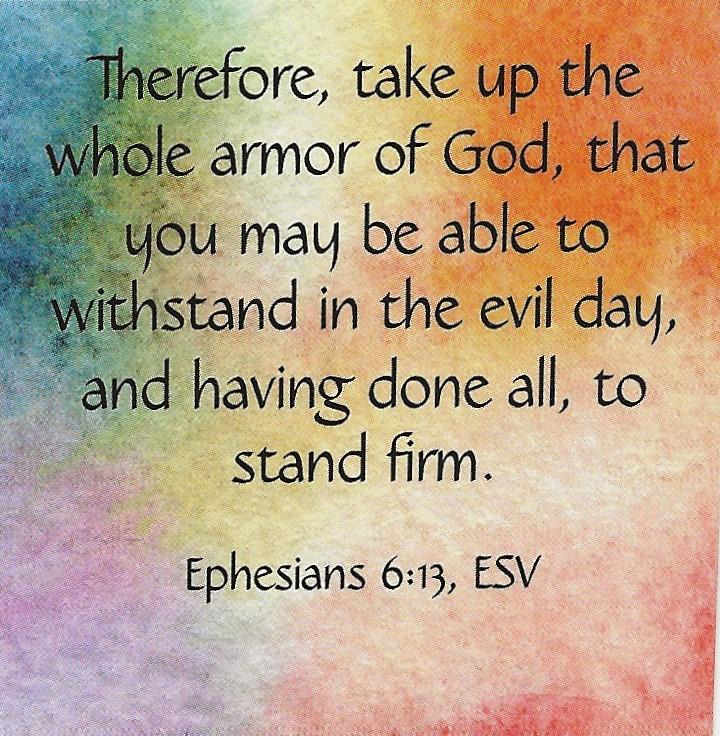 You've done everything you know to do, now what? What do you do now? It's a good question, and God has provided us with the answer. In Ephesians 6:13, (ESV) He says, "Therefore, take up the whole armor of God, that you may be able to withstand in the evil day, and having done all, to stand firm." This verse is packed full of wisdom for us. It instructs us that we are to take up the whole armor of God, not just the parts that you are familiar with or comfortable using, but the entire armor of God. And when we use the full armor then we are equipped to withstand the devil and his wicked attacks against us. But what do we do when we've done all of this? His answer sounds simple, but I believe it is the most difficult part of the battle. We are to stand and stand firm. Stand firm in knowing that you will not bow or bend a knee to the devil and the attack against you. You will keep that belt of truth found in God's Word wrapped tightly around your waist. You will hold up your shied of faith, you will not lay it down, but hold it up so that you can ward off all the fiery darts of the enemy. You will keep His breastplate of righteousness fastened over your heart, knowing that it is His righteous acts that you stand in. You keep the sword of the Spirit sharp and ready to use when the enemy falsely accuses you or spouts off lying reports or negative symptoms. Instead of giving into these negative attacks of the devil, you prophesy the healing promise of the Lord over yourself and situation. You keep your feet covered with the gospel of peace, which is not a little thing, it's a big deal. If the enemy can get you to walk away from the peace of God, he can then lead you into the realm of doubt and unbelief, and that is not a place you can afford to walk in. And you must keep your head covered with the helmet of Salvation and allow the amazing grace of Jesus to cover you in all situations.
Let's pray in faith.
Father God, having done all according to Your Word, I will not bow to the devil, I will not faint or grow weary, and I will not waver. I will stand firm on your healing promise to me. In Jesus' name, I pray in faith, amen.
Click to purchase your pack of 31 Healing Scripture Cards. 
Click here for information to enroll in Becky's 12-week online course, The Healing Creed.
Click here to visit Becky's ministry itinerary.
© 2023 Author Becky Dvorak–Healing and Miracles International, All rights reserved.