Loosed From the Effects of Polio by Faith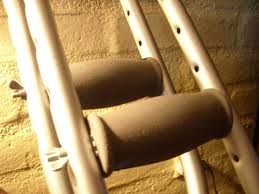 People are often waiting upon God for the manifestation of their healing, but in actuality He is waiting upon us to activate our faith for our healing that He already provided for us. What do I mean by this statement? According to Isaiah 53:4-5 we are already healed by the whips Jesus endured to purchase our healing.
But [in fact] He has borne our griefs, and He has carried our sorrows and pains; yet we [ignorantly] assumed that He was stricken, struck down by God and degraded and humiliated [by Him]. But He was wounded for our transgressions, He was crushed for our wickedness [our sin, our injustice, our wrongdoing] the punishment [required] for our well-being fell on Him, and by His stripes (wounds) we are healed. (AMP)

You say to yourself, "If I am already healed then why do I still feel sick? Or why do I still have these symptoms?" These are great questions with even greater answers from the Scriptures.
Like any other promise found in God's Word your supernatural healing is activated by your faith. And the two ways to activate your faith is by the power of your spoken words and by activating your faith,or putting action behind your faith-filled words.

In other words, you are responsible for your healing, Jesus made good on His healing promise as stated above in Isaiah 53:4-5. Your part is to strengthen your faith to the point  you actually believe. And how do you do this? According to Romans 10:17, "So then faith comes by hearing, and hearing by the word of God." And to build up or strengthen your faith for healing you need to direct your efforts towards the healing Scriptures. Now is not the time to study finances, it is time to focus in on healing. And this is good news, you have control over your health and healing or any situation for that matter.

Here is a wonderful testimony about a woman who came to the healing conference in Austin, Texas with multiple  issues that caused her great pain. She had contracted polio as a child and it crippled her, then when she was a little older she had an accident where she went though a window and the glass cut her down to her bone. And the other health issue was she had a torn rotary cuff.
She had heard how she was responsible for her own healing, and that it is her faith that heals her.  She received the teaching necessary to know what faith is and how to activate her faith for her healing.
We started with the torn rotary cuff first. She was instantly healed and had full range of movement. And that made her very happy. I then released the healing power down her spine and into her hips. I told her to put her faith into action and do what she was not able to do before. She started to sway her hips back and forth and within about a minute she was beaming with joy as she was loosed from a lifetime of ill effects from childhood polio. Then I released the power of the Holy Spirit into her left knee and leg that had been cut through from the accident with the glass door. She was eager to exercise her faith and the pain and tightness was easing up. I then asked her if she came to the service with someone. And she did so I asked her friend to walk her around the sanctuary, and amazingly she just started to walk with ease.
Glory to God, all things are possible to those that believe in the miracle working power of the Spirit of God. And this woman is a shining example of what happens when people learn what it means to believe, and how to work faith to activate the benefits of God.
Click here to learn about the power of your words in  Becky's new book, The Prophetic and Healing Power of Your Words.
Click here to visit Becky's ministry itinerary.
© 2018 Author Becky Dvorak–Healing and Miracles International, All rights reserved.