Ready or Not the Battle is Raging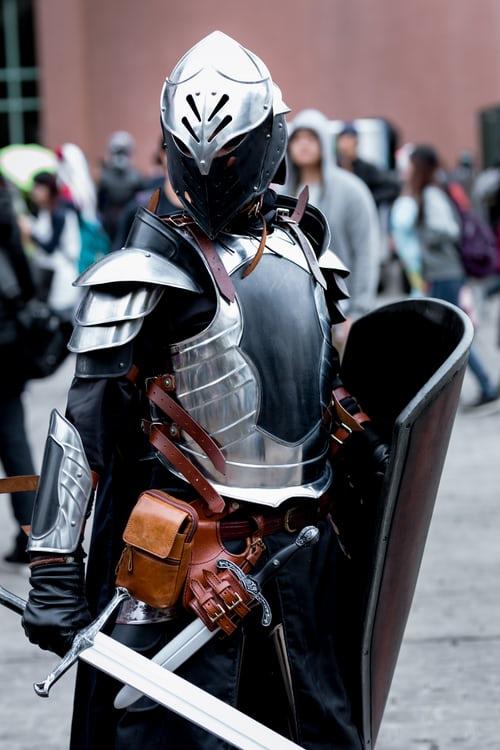 Ready or not the battle is raging all around us now. According to Ephesians 6 it's time to wear that breastplate of righteousness with courage, tighten up the belt of truth, shod our feet with His peace, strap on that helmet of Salvation, pick up our shield of faith, and pierce the heart of our enemy with the sword of the Spirit. Because whether we are ready or not the battle is raging. 
It's time to wear that breastplate of righteousness with courage, knowing that it is not your righteousness that you are wearing, but the righteousness of Christ. And accepting His righteousness by faith will give us all the courage we need to overcome the fear of wars and rumors of war. Second Corinthians 5:21 testifies to us that, "For He made Him who knew no sin to be sin for us, that we might become the righteousness of God in Him." It is not about our works, but the work Christ worked out at Calvary on our behalf, and this is shouting news! Our enemy, satan can't stand against the righteousness of Christ within us. Wear this spiritual breastplate of our Savior's righteousness with confidence. 
What is the truth behind this supernatural belt we have been given to gird ourselves with? Number one fact about truth is that it is certainty. It's being in accord with fact or reality. Paul tells us in Romans 8:37 God's fact, His reality, and His certainty about us, "Yet in all these things we are more than conquerors through Him who loved us." A conqueror is one who conquerors what is rising up against them. God's truthful word tells us that we are more than conquerors. In other words, we are above defeat. Allow this nugget of truth to sink in and live like you are created to be–a winner, victorious, and above the defeating powers of satan. 
Ephesians 6 says that we are to shod our feet with peace. What is a foot shod?  A spiritual shoe; something to aid our movement. This piece of armor is to aid our movement and defense and not our appearance. Spiritually speaking, this is a military measure to protect and defend ourselves against the wiles of the devil, himself. And when we speak of peace we need to know this is not referring to earthly peace, but the peace of God which surpasses all human understanding. I have found through experience during heavy warfare with the devil and his attacks that this peace of God is not a feeling, but a supernatural place with God. We are to press through the battle, no matter how fierce the attack of the devil may be, we walk through the battle until we walk into God's promise of manifested victory. And it is this spiritual shoe of His peace that we are able to get there. 
I say, "Strap on that helmet of Salvation!", don't allow it to fall off during this fierce battle ahead of us. Matthew 24:13 clearly warns us that, "But he who endures to the end shall be saved." Many are falling away from the faith right now, and many more will fall with them, but hold onto the power of His amazing grace that has delivered us in spirit, soul and in physical body from sin and the wages of sin–death. What does God's Word say about Salvation in John 3:16, "For God so loved the world that He gave His only begotten Son, that whoever believes in Him should not perish but have everlasting life."
I say it is time to pick up your shield of faith. And what does the Word of God tell us about faith? First John 5:4 reports, "For whatever is born of God overcomes the world. And this is the victory that has overcome the world—our faith." And with this victorious power of our faith we can speak to that stubborn mountain and it will obey our command, "For assuredly, I say to you, whoever says to this mountain, 'Be removed and be cast into the sea,' and does not doubt in his heart, but believes that those things he says will be done, he will have whatever he says." What does Jesus say about our faith? He responds to the woman with the issue of blood found in Luke 8:48, "Daughter, be of good cheer; your faith has made you well. Go in peace." To the one leper who returns to give thanks for his healing Jesus says in Luke 17:19, "Arise, go your way. Your faith has made you well." And again, we see in Luke 18:42 Jesus admonishes the blind beggar, "Receive your sight; your faith has made you well." 
And finally I want to address the sword of the Spirit. What is this supernatural weapon? Ephesians 6:17 tells us that this spiritual sword is the Word of God–the Holy Bible. Quoting the Word of God while the enemy, satan is raging all hell against you is a mighty force that stops him dead in his tracks. He fears the power of the Word of God spoken over him in faith. Hebrews 4:12 tells us concerning the Word of God that, "For the word of God is living and powerful, and sharper than any two-edged sword, piercing even to the division of soul and spirit, and of joints and marrow, and is a discerner of the thoughts and intents of the heart." Use the Scriptures liberally and continually throughout the day. Allow the supernatural power of God's Word to protect you from the attacks of satan today and always. 
In closing, we know the Good News–we win! But this does not mean we do not fight the battle. We are told to fight the good fight of faith. So pick up all your spiritual weapons because ready or not the battle is raging. 
Becky Dvorak is the host of the dynamic teaching program, Empowered for Healing and Miracles, featured globally on the It's Supernatural! Network on ISN. Join her on Mondays at 8:30 AM and 8:30 PM EST. 
Click here to order a copy of Becky's latest book, "Conquering the Spirit of Death".
Click here to visit Becky's ministry itinerary. 
© 2021 Author Becky Dvorak–Healing and Miracles International, All rights reserved.