The Ultimate Fact-Checker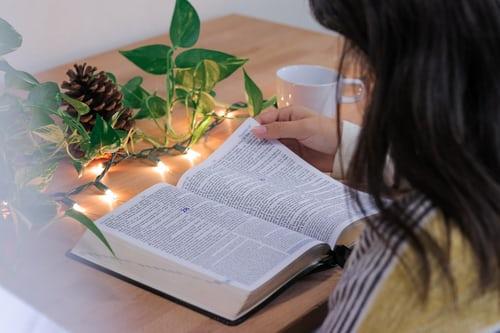 The ultimate fact-checker is the Word of God, and not this world's ungodly fact-checking system. What does God's Word say concerning the basic facts of life, and how we are to live like Christ? Let's look to this ultimate fact-checker and find out if what we say or what we are being told is the truth or a lie.
When the world tells you the situation is impossible, remind yourself what God's Word says, "With men this is impossible, but with God all things are possible, Matthew 19:26."
While the situation may look hopeless, double-check with the Ultimate Fact-Checker, God's Holy Word, and declare, "Now may the God of hope fill you with all joy and peace in believing, that you may abound in hope by the power of the Holy Spirit, Romans 15:13." 
Check in with the Ultimate Fact-Checker when society's confusion is clouding your pathway, and take comfort knowing what God would say to us, "For I know the thoughts that I think toward you, says the Lord, thoughts of peace and not of evil, to give you a future and a hope, Jeremiah 29:11." 
Reminding ourselves with the true facts and not the world's lies in just these three verses above give us the faith to believe that the answer to our present situation is possible with God, and in Him and with Him we may abound with hope. And that we do not need to settle for society's confusion, but be reassured that God has a plan, a future and a hope for us. It is vital in these last days that we keep our mind focused upon the Ultimate Fact-Checker, the promises of God to see us through each and every day. Let us look at a few more Biblical facts to help us. 
When the ungodly try to set a snare for us to fall into the realm of fear, let us remind ourselves with God's facts and declare over our mind and emotions today that "God has not given us a spirit of fear, but of power and of love and of a sound mind, 2 Timothy 1:7".
When the news all around us is filled with the negative report that we are going to get sick and die, let us holdfast to God's healing promise from Isaiah 53:4-5 from the Amplified Version of the Bible and speak these words of prophetic healing power over ourselves and loved ones, "But [in fact] He has borne our griefs, and He has carried our sorrows and pains; yet we [ignorantly] assumed that He was stricken, struck down by God and degraded and  humiliated [by Him]. But He was wounded for our transgressions, He was crushed for our wickedness [our sin, our injustice, our wrongdoing]; the punishment [required] for our well-being fell on Him, and by His stripes (wounds) we are healed."
When the world has fallen into financial calamity let us tap into God's kingdom principles and say and do what He instructs us to do, "Give, and it will be given to you: good measure, pressed down, shaken together, and running over will be put into your bosom. For with the same measure that you use, it will be measured back to you, Luke 6:38."
While the world is stressed beyond measure, turn to the Ultimate Fact-Checker and allow God's words of comfort flood your soul, "Peace I leave with you, My peace I give to you; not as the world gives do I give to you. Let not your heart be troubled, neither let it be afraid, John 14:27."
As we review these three Scriptures shared above we see that God's Son, Jesus Christ has healed us from all sickness and disease in spirit, soul and in physical body, that as we give God will give back to us to meet our daily needs, and that we need not fear, but can choose to tap into His peace that is out of this world.
I pray that you will take and ponder upon these six promises of God from the Ultimate Fact-Checker, God's Holy Bible and allow His peace, strength, healing, protection and provision overtake the falsehoods of this world.
Becky Dvorak is the host of the dynamic teaching program, Empowered for Healing and Miracles, featured globally on the It's Supernatural! Network on ISN. Join her on Mondays at 8:30 AM and 8:30 PM EST. 
Click here to order a copy of Becky's latest book, "Conquering the Spirit of Death".
Click here to visit Becky's ministry itinerary. 
© 2020 Author Becky Dvorak–Healing and Miracles International, All rights reserved.