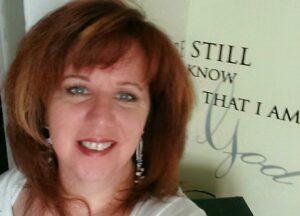 Margie from Hendersonville, TN writes to testify of her physical healing. She says, "I had been to the ER that day, they said tendinitis. I couldn't lift my arm (using my shoulder) as much as 3 inches in any direction. The doc gave me a strong anti-inflammatory, and muscle relaxers. I had both in me when I saw you.
You prayed, and I put my faith into action. If you remember, I worked and worked that arm for the rest of the service…and with the help of my other (good) hand, I was able to get the injured arm over my head.but I wasn't able to do it without the assistance of the other arm. It just wouldn't go on its own.
That was day 1. Day 2, Thursday, I took 1 of each pill, and noticed some improvement but the pills, at the recommended dosages of 3 muscles relaxers and 3 anti-inflammatories daily were too much for me so I moved to 1 of each daily, before bed, and that was it.
Each day thereafter I noticed steady improvements… and they were big improvements…not minor. It took from last Wednesday night to this Tuesday morning to be fully pain free and have my complete range of motion back. I even have all the strength back and am able to carry whatever I want on that side.
Thank you Jesus for my healing!!!"
Did you notice how Margie put her faith into action to obtain her miracle? It took trust in God's healing power for her to come forward and to start working her shoulder the way she did. She then realized she needed to wean herself off of the anti-inflammatory meds she was taking. And when she did she saw that she was healed in Jesus' name.
Becky Dvorak is a prophetic healing evangelist and the Destiny Image author of DARE to Believe, Greater Than Magic and, soon to be released, The Healing Creed. Visit her at authorbeckydvorak.com.