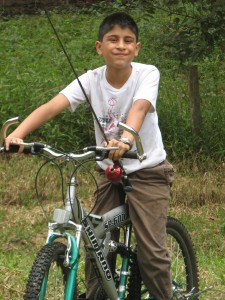 When we received Andres he was 6 weeks old. His birth mother was an alcoholic and drank while she was pregnant, and after he was born she fed him sugar water and alcohol. Needless to say Andres had many challenges.
He was sick, weak and suffered from alcohol withdrawals. During the night times my husband and I took turns to care for him. To keep his formula down in his system we had to feed him with an eye dropper. By the grace of God we made it through this season and he could now drink formula from a bottle.
But then we noticed he started to have convulsions. The doctor's reports were bad. Tests showed that between the fourth and twelfth weeks of fetal development the right and left sides of the brain did not form together properly and there were black spaces between the two lobes. And because this happened to him while in the womb he was labeled with Fetal Alcohol Syndrome, even though he did not have the facial features of someone with FAS.
He was very developmentally delayed. Then he started to bang his head on the crib, bite, spit, and scream and tantrum for hours at a time. Meal times were especially difficult for our large foster family. He would scream and tantrum again, because he did not want to eat what we gave him. He only wanted food that was white or off-white in color or eat from the floor.
Then as a toddler other strange behaviors began like spinning. Everything in his world had to spin in circles non-stop, including himself and his toys. He could not make eye contact. And he did not learn how to speak normally, the only words he would say were, "Mickey, Donald, Goofy". And the violent behaviors and tantrums increased.
I brought him in for further tests and they said he was autistic. They said they could give him medication to calm his behavior, but that it was more for the benefit of the mother than for him. I refused, and sought the Lord.
During this time I was studying the Word concerning healing, not only was I reading and studying, but I was fasting too. I was keeping a journal about what I was learning, and was asking Him to reveal more to me concerning healing. He was very faithful to me, and taught me how to heal the sick.
One day I was in the nursery with all the little ones, and Andres started to scream and become violent. In that moment the Lord spoke to me in a still, small voice, and I knew what to do. I turned to Andres and said with authority, "I rebuke the violent autistic spirit within you in Jesus' name." Immediately, he settled down and never had that problem again. And he never screamed during mealtimes again either.
Then we dealt with all of the other abnormal autistic behaviors, and one by one, they were gone. We taught him to eat what was put before him, and to stop the spinning. But he was still not able to look at us in the eye or carry on a conversation.
Then one afternoon, while I was in the kitchen he came up to me and started a normal conversation and even looked me in the eye. He then left for a while to go play with the other little ones and then he returned and continued on the same conversation where he had left off. I was so amazed at what the Lord had done for our son.
We have had doctors and social workers tell us the same thing over and over again, "He is no longer autistic!"
Andres is now 14 years old, he is perfectly normal. He has no autistic or FAS behaviors at all. He is sweet, intelligent, bilingual, and loves the Lord.
I do not hold a medical degree, but in my personal studies about Biblical supernatural healing and by personal experience these diseases have a spiritual side to them that needs to be addressed as well as the physical.
How did I do this?
I sought the Lord and He heard me. (Psalm 34: 4) I sought the Lord, and He heard me,
and delivered me from all my fears. NKJV
I studied the Word of God concerning healing. (2 Timothy 2: 15) Be diligent to present yourself approved to God, a worker who does not need to be ashamed, rightly dividing the word of truth. NKJV
I prayed and fasted for Andres' deliverance and healing. (Mark 9: 29) So He said to them, "This kind can come out by nothing but prayer and fasting." NKJV
I obeyed what the Lord said to do. (John 2: 5) His mother said to the servants, "Whatever He says to you, do " NKJV
I stood strong, I did not give up. (Ephesians 6: 13) Therefore take up the whole armor of God, that you may be able to withstand in the evil day, and having done all, to stand. NKJV
Becky Dvorak is a prophetic healing minister and the Destiny Image author of DARE to Believe and Greater Than Magic. Visit her at authorbeckydvorak.com.