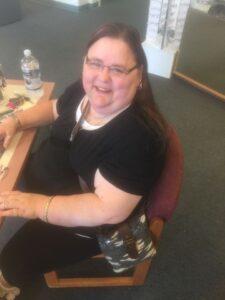 Victoria from KY writes to testify and says, "I really did not understand healing until I was healed from being in a wheelchair for 6 years. I just believed with all my heart that I was healed and that was in 2012. And I am still out of the wheelchair!
My faith has brought me through so much, and your faith will bring you too.  You've just got to Dare To Believe. Thank you Jesus!
I met healing evangelist Becky Dvorak, the author of Dare To Believe. She has helped me so much. I would advise everyone to read her book Dare To Believe. It will teach you about the power of healing and miracles that she has witnessed, how Jesus died so we could live, and how much He loves us. She teaches that healing is in our tongues, so we should not claim sickness, but give it to Jesus. He WILL take care of us. We need to say that we are healed in the name of Jesus. And most important pray in the Spirit cause the devil cannot understand when we pray this way.
The book Dare To Believe by Becky Dvorak will teach you this and a whole lot more.  So get your copy today, and learn all about healing "The True Power of Faith To Walk In Divine Healing And Miracles".
God is still healing me today. I am healed in Jesus name because I DARE TO BELIEVE !!!" 6/25/13
Becky Dvorak is a prophetic healing minister and the Destiny Image author of DARE to Believe and Greater Than Magic and The Healing Creed. Visit her at authorbeckydvorak.com.